Tattoo Regret?
Best Prices in West Michigan
Tattoo regret?
Let us give you a clean slate.
Approximately 1 in 4 people have at least one tattoo. Statistics show that many people change their mind shortly after and rethink their ink choice. Sometimes, they decide they do not want the tattoo at all.
There is good news if you have an unwanted tattoo! Laser tattoo removal can eliminate your tattoo. Whether you want your tattoo removed completely, or just lightened for a new tattoo in it's place, Grand Haven Laser Tattoo Removal can help. Our clinic is physician supervised and our experienced technician will answer all of your questions. Call us for a complimentary consultation.
Phone
(616) 402-6640
Location
700 West Washington Ave,
Suite 240
Grand Haven, Michigan 49417
Hours
By Appointment Only
Complimentary Consultations

"I've had 3 sessions already with Margaret and I've seen great results. I would recommend Grand Haven Laser Tattoo Removal to anyone that has an unwanted tattoo!" - Kim
"Margaret is very friendly and professional! She makes you feel completely comfortable and makes sure you know all the information you need to. I had a small tattoo and with three treatments it is completely gone. You can't even tell it was there. No scars or anything! Amazing! I definitely recommend this place to anyone looking to get a tattoo removed!" - Amber
"I am a tattoo artist at Screaming Needle and specialize in cover ups. And this place has helped my career out so much. I have recommend Grand Haven Laser Tattoo Removal to tons of my people with art that needs lightening up so it makes it easier for a new piece of art-work and or total removal. After seeing what it has done for my clientele, I am now thinking of removing a few of mine so that I can do a new sleeve tattoo. I personally thank you from the bottom of my heart and on behalf of many of my friends and clients. I will keep recommending you for sure." - Archie
Before and After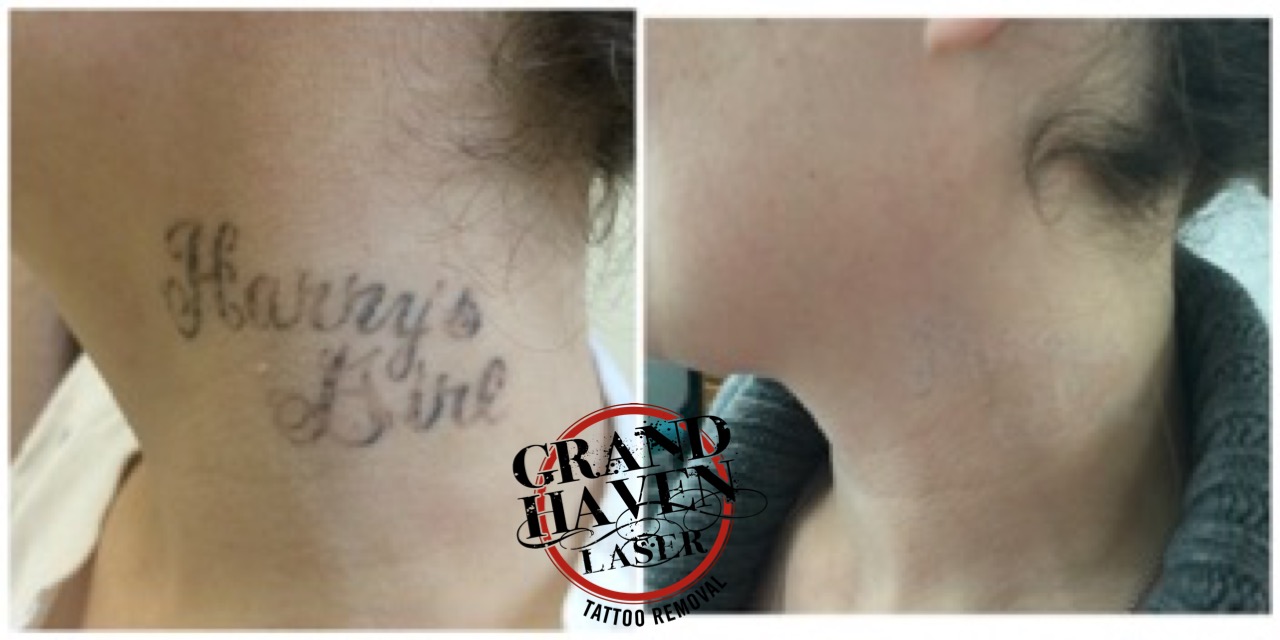 Our technician - Margaret Brookman, CLT
A graduate of the National Laser Institute - School of Medical Aesthetic, Margaret Brookman has been a Certified Laser Technician since 2012. With a background in art and design as well as a lover of tattoos herself, Margaret decided to open Grand Haven Laser Tattoo Removal in 2013.
Margaret needed tattoo removal personally. After a long search for a clinic on the Lakeshore that was both affordable and professional, the idea to open her own clinic was born. She is passionate about helping her clients achieve results and educating them about the benefits of laser tattoo removal. Contact her to find out more about how Grand Haven Laser Tattoo Removal can help give you a clean slate.
FAQs
Q: How many treatments will it take to remove my tattoo?
A: Each person is as unique as their tattoo, but most professional tattoos take between 5-15 treatments. Laser tattoo removal treatments are spaced out 4-8 weeks apart. The number of treatments can depend on a number of factors, such as:
amount of ink used
depth of the ink placed in the skin
type of ink used
location
age of the tattoo
colors used
Q: Can I come back earlier than scheduled for the treatments?
A: No. The time between treatments is set up so your skin can heal properly and your body has enough time to flush the tattoo ink out naturally. The results are not always immediate. The body breaks down the ink slowly usually taking weeks to see the full results from a treatment.
Q: Is the process painful?
A: As many patients describe it, each pulse feels like a grease splatter or the snapping of a rubber band against the skin.
Q: Will I have a scar?
A: No. As long as you follow the aftercare instructions provided there is minimal to no scarring from this procedure.
Q: Do all the colors of ink respond the same?
A: No. Black and red inks are the easiest to remove while greens and light blues are the hardest. These blues and greens can sometimes take more treatments than other colors. In some cases these colors cannot be removed completely.
Q: Will the tattoo be removed completely?
A: In most cases the answer is yes. However, complete removal is sometimes a hard thing to predict due to all the unregulated inks on the market. The F.D.A. does not regulate tattoo inks and a lot of tattoo ink manufacturers and artists make and mix their own inks. Sometimes these mixes have metals and other foreign additives for effect. These unknowns are why 100% removal is hard to predict and can not be guaranteed.
Q: What can I expect after laser tattoo removal?
Redness, swelling, scabbing, bruising and sometimes blistering are all normal. These blisters are superficial and will heal beautifully but may be uncomfortable for a couple of days. We provide very clear and easy aftercare instructions for post treatment care.
Q: How does it work?
Laser tattoo removal is a simple outpatient procedure that uses specific laser wavelengths and frequencies to target tattoo inks, break them down at a molecular level, and gradually remove them from the body. The process is far less invasive than getting a tattoo and takes less time. Treatments take a series of sessions and each one usually lasts from 5-15 minutes or less. Patients can literally receive a treatment during their lunch break and return to work on time.
Laser tattoo removal works by directing laser energy at the tattooed area for a fraction of a second passing harmlessly through the outer layers of skin and focusing directly on the tattoo ink. The laser disrupts the ink allowing the body to break it down and flush it out naturally.